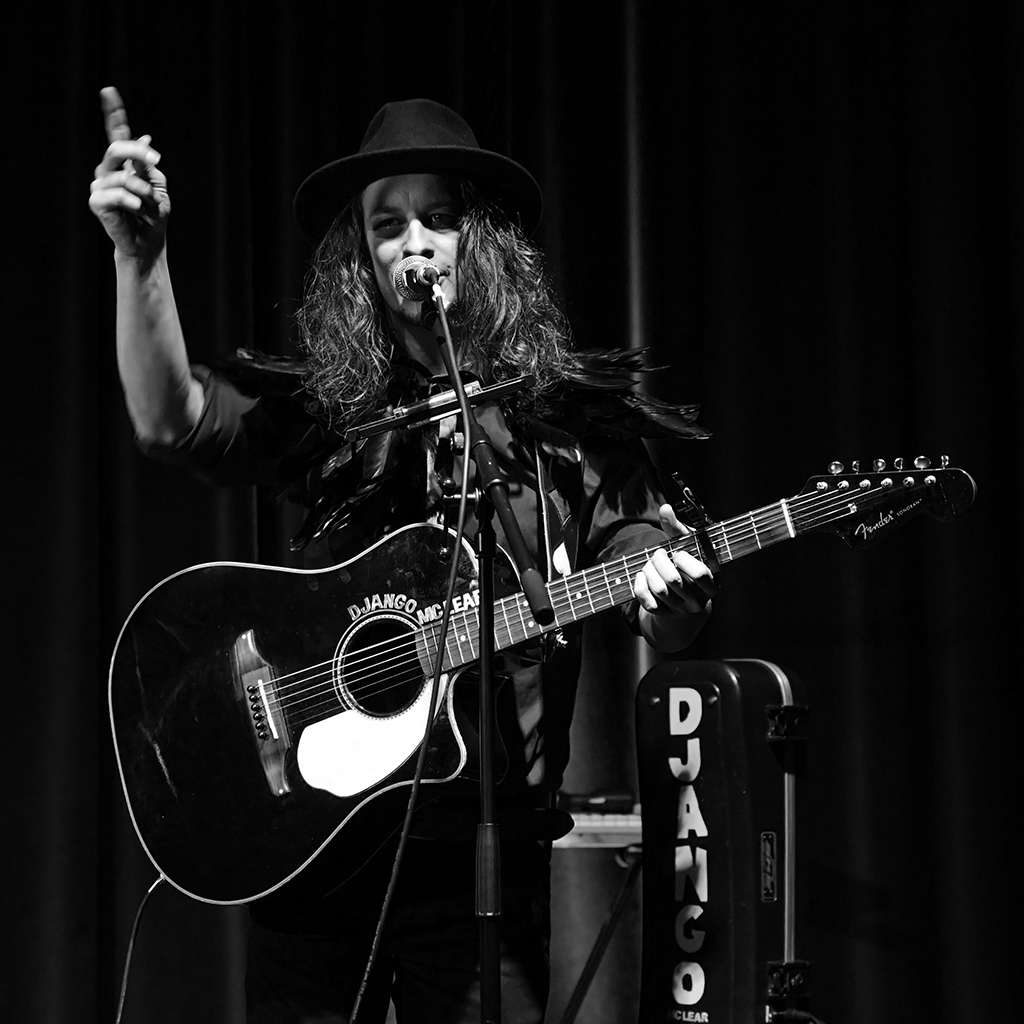 THIS IS DJANGO McLEAR
"Django McLear" is an Austrian One-Man-Band and Singer/Songwriter living in Berlin. Since 2010 he has been crafting descriptive-appealing, colorful-dark, disruptive-soothing, and powerful-emotional English Alternative Folk-Rock Songs with Americana and Blues influences. His songs deal in detailed stories of human life as an imperfect and unpredictable design and meander from the grey concrete of Berlin to the lush green hills of Seattle, from a deserted and dusty saloon in the wild wild west to the dark and sticky crowded pubs in Dublin.

His haunting baritone and falsetto vocals, acoustic guitar accompaniment, blues harps, and stomping beats on his guitar case "Django McLear" creats an acoustic psychedelic waltz of honest and engaging moments to help the audience to open up and sing, clap, or dream along.

"Django McLear" is heavily influenced by the greats of songwriting such as Johnny Cash and Bob Dylan with alternative rock and stomping blues influences like Jack White, Shakey Graves, and The White Buffalo.

"Django McLear" played during the Berlin Music Week at the "First We Take the Streets" festival, Fêtes de la Musique, and the Paretz political festival. There were also appearances in Bar Bobu (Berlin), Admiralspalast (Berlin, Privatclub (Berlin), Wabe (Berlin), Birgit & Bier (Berlin), GIG Linden (Hanover), Die Weisse Rose (Berlin), Lagari (Berlin), Moonkeys (Berlin, Raumklang (Berlin), Ex -Cabiola (Berlin), Kopfkino (Berlin), Stone Brewing (Berlin) and is known on many open stages in Berlin and around the world: Artliners (Berlin), Arcanoa (Berlin), Madame Claude (Berlin), 7 Stufen(Berlin), Collegium Hungaricum (Berlin), Lux (Berlin), Klub K (Hamburg), Theater Verlängertes Wohnzimmer (Berlin), Al Hamra (Berlin), Scratch Deli (Seattle, USA), Djili Pop (Copenhagen, DK) and Rahuset (Copenhagen, DK)